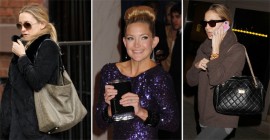 If you like celebrities who do their own stylistic thing, no matter what the trends might be, then you probably already like Kate Hudson. Even if you don't dig her rich-hippie look (and it's certainly not my thing), it's always refreshing to see a celeb who has such a clear vision of what she likes to wear and how she wants to look. Stars: sometimes they're also real people!
The process of identifying some of the bags in Kate's collection was tricky – she doesn't stick only to premiere designers and recognizable bags, which is to her credit, but it's also to our never-ending consternation. We've done our best to pick out as many notable finds as we can, and we've also included a few for you guys to help us figure out. (You guys are so good at that.) Start Kate's hippie handbag journey (with a dose of Chanel for good measure) below.
The post The Many Bags of Kate Hudson appeared first on PurseBlog.